Hello,
I'm Mike and I'd like to thank you for your interest in a commission!
A full color character head to toe is $90 + $65 per extra character. Waist up is $65 + $40 per extra character.
Special effects & backgrounds are extra & are priced based on the complexity.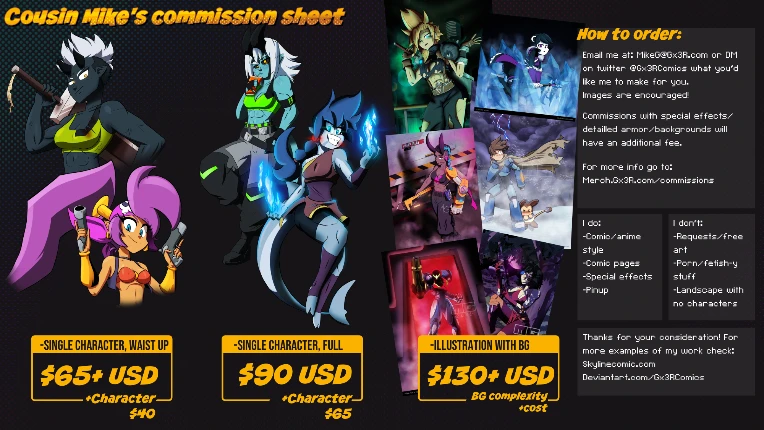 See my gallery for examples of my work & my range.
The steps of a commission:
1- You provide what you want me to draw with image references & after we agree on the details & payment, you pay half up front.
*Once I start the first-half of payment is non-refundable.
2- I create a low-detail pose and email it to you. Once approved, I move on to sketching the details (hair, clothes, face etc) once that is approved I move to the next stage. This where changes to the pose/hair/etc are simple & free for a few edits.
3- Next stage is inking, coloring, shading. I'll send an example over of the colors for approval and once that's done, shading/highlights begin. Changes to color, are fine but any larger changes like the pose, outfit, etc will be charged by an hourly rate.
4- After the commission is done, a low-res & watermarked version is sent over. After final payment, you'll get a hi-res pic without a watermark.
*At this point the commission complete and is non-refundable.
I do not:
-I do not do requests/art for free.
-I do not work 'for exposure'/shout out on social media, youtube,twitch.
-I do not do art trades.
-I do not create political/racist content.
-I do not create ANY sexual content involving minors.
-I do not do pornography/sexual intercourse.
Do not contact me about the above, I will not reply.
You can DM me here on NG or on twitter or email me at MikeG(at)Gx3R.com